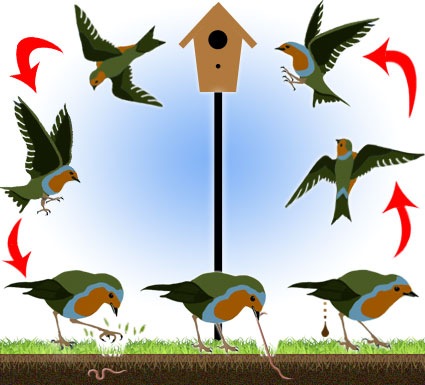 A swoop-path is a flight pattern that consists of a short flying distance from a bird house to the ground, and then back again. It's established from the repetitive back-and-forth action of a motherbird when she flys from the structure to the ground and back up to the bird house. It's used by many species of birds and songbirds.
A motherbird will use a swoop-path to perform several actions:
Searching for seeds

- When birds search for seeds, they walk or hop along the ground and effectively "scratch" and "etch" the ground surface as they search.

Searching for insects

- When birds search for insects, they dig and peck at the ground to search for worms, beetles, larva and ants.

Defecation

- When birds discharge their feces on the ground surface, it sinks down into the soil causing a good compost mixture for fertilizer.
A motherbird will use a swoop-path as a regular way of transporting food on the ground back up to the bird house structure. The right placement is key. For example, a structure mounted 5' to 10' feet above the ground will make it easy for a black-capped chickadee to swoop down to gather seeds, insects, berries and invertebrates. Place it near a tree or thick brush but not too close to obstacles, as black-capped chickadees prefer an unobstructed path to the entrance hole without branches and leaves in the way.
Nest dwelling birds will also use swoop-paths, and sometimes it's also the male, or father-bird, that will perform the same functions. Whether they are nest or structure dwellers, there are a number of father-birds that will aid the mother in the raising of their babies and use a swoop-path.
How to create a swoop-path..
It's easy to create a swoop-path for birds. It only involves mounting a birdhouse about 5'-10' feet from the ground. And that's it, you're all done. The birds will do the rest. It's easy and takes little time. Soon, a mama-bird will find your new birdhouse and start using it to fly back and forth to eat seeds and insects, and also fertilize the ground!